The Morning Praise with Darrel Eason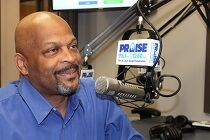 Darrel Eason is no stranger to St. Louis radio. He once programmed Majic 104.9 and Hallelujah 1600. Under his leadership, Majic 104.9 was selected as a finalist for the 2010 Marconi Award for Urban Station of the Year.
Back in 2010, Darrel was instrumental in creating and launching "Sista Strut," the annual breast cancer awareness walk for women of color. He was also the host of "Quiet Storm," the number one night-time show in St. Louis for many years.
He's been a program director, on-air talent, media instructor, and manager for over 27 years in the St Louis market. He received his B.A. in Journalism from the University of Arkansas-Fayetteville and a M.S. in Nonprofit Management from Fontbonne University.
He has 3 sons – Bryan, Jeremy, and Andrew and a daughter, Kristina with his wife of 30 years, Karen. Darrel, Karen, and Kristina reside in University City.
He's thrilled to launch Praise 95.1FM & 1260AM as the very first FM Contemporary Urban Gospel station in St. Louis!